Tanya Collin-Histed
International Gaucher Alliance (IGA), UK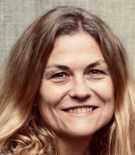 Tanya Collin-Histed became involved in the Gaucher world in 1996 when her daughter Maddie was diagnosed with Type 3 Gaucher disease. A year later she became a Trustee for the UK Gauchers Association and started to support patients and their families with Type II and III Gaucher Disease through family conferences, information booklets and proving friendship and emotional support.
In 2001 Tanya received the Alan Gordon Memorial Award in recognition for her work with Neuronopathic Gaucher disease and her support to families.
In 2003 Tanya became the national development manager for the UK Niemann-Pick Disease Group, the charities first ever employee. However, in 2005 she took up the post of Executive Director of the Gauchers Association UK and was in this post, as Chief Executive until July 2018 when she resigned to take on the role of Chief Executive Officer for the International Gaucher Alliance (IGA) on a full-time basis. Tanya took up the position as a Trustee of the UK Gauchers Association in October 2018, continuing her committement to the UK Gaucher community.
In her role as CEO of the IGA since 2008, Tanya underpins all of the activities of the IGA from their UK office. Tanya's main responsibilities within the IGA are supporting patients globally to access treatment through compassionate programmes in partnership with Pharmaceutical Companies, supporting evolving patient's groups in countries across the globe and the development/governance of a Global patient led nGD regsitry.
In December 2017 Tanya became a Trustee of Medics4RareDiseases. Tanya first became involved in Students for Rare Diseases in 2013 as a member of the UK LSD Patient Collaborative and has supported the project in its development to become Medics4RareDiseases. Tanya resigned from from M4RD in 2020 to be able to focus more on her work as a Trustee for the UK Gauchers Association.
In June 2020, Tanya became the company secretary of a new company called International GARDIAN Ltd (IGL). The IGL is a company wholly owned by the IGA that will own and govern the new Global patient nGD registry. The Gaucher Registry for Development, Innovation, and Analysis of Neuronopathic disease (GARDIAN) will study patients with GD2 and GD3 worldwide by collecting longitudinal data on self-reported symptom burden, functional status and health-related quality of life (HRQOL) and well-being in a systematic and standardized manner.
Outside of work Tanya's time is spent preparing for her next triathlon, long swim or SwimRun event, so swimming, running and cycling is where you will find her. She also enjoys a good book.